♥ FREE eBook ♥

Live bait makes all the difference.

Sent on a mission to lure Budapest's vampire Overlord into a trap, Connie Bence is instead caught red-handed by the dark Casanova.

Her employer has concrete proof of the dubious leader's misdeeds but she is surprised when this ruthless killer, Rurik, offers her protection and rescues her from his own kind. It plants seeds of doubt in her mind and she begins to question his guilt.

Now she is thrown into his world where blackmail determines her every move and where she must betray those she cares about or let them die. The stakes are high. She either puts her trust in Rurik or leads him to his execution.

Love or life.

This book made me a HUGE fan of Annie's (I now own almost all of her books).

The story is unusual, but very interesting (not your typical "vampire romance" story line), and I found myself laughing out loud several times! I'm sure you'll want to find out what happens to everyone in the subsequent Angler books: Catch, Hunting Colby, and Release (not out yet).

LOVED this book!!!
Caught between two vampires, Connie is torn between Rurik, the one she loves and Tane, the one she'd love to stake.

Hunger burns in Connie Bences' soul--she craves the blood of her vampire lover, Rurik, but it's not satisfying her needs anymore. It's driving her insane. Desperate to find help, Rurik brings her to Rio De Janeiro, where Tane rules the vampire nation.

The back-stabbing vampire almost killed her and Rurik when they'd first met, then used them to obtain his crown. She would rather stake him, but the small drop of Nosferatu blood he'd forced her to drink in Budapest is blooming into a bond, one which ties her life to his. One he won't hesitate to manipulate.

He admits to binding her so Rurik would have to remain at his side, but their timing couldn't be any worse. The betrayer finds himself betrayed. Tane's rule is in upheaval and he's forced to place his trust in two people who owe him no allegiance—her and Rurik. In the middle of a power struggle, Connie fights to keep her lover, but didn't plan on Tane slipping into her heart.

Holy WOW!!!

I read the first book in this series, Bait (which is FREE), which was really good; it introduced the key players and the story itself.

THIS book, however, went so much further in terms of getting to know the characters and the "gameplay" amongst them. It is a real page-turner, and I had a few "chuckle-out-loud" moments, as is true Annie Nicholas fashion.

To this day, Tane is one of my all-time favorite vampire-heroes, and that is because of this book.

The next book in the series, Release, is coming out soon, and I will be one of the first in line to grab it!!!
Once she catches her prey, God help him.

Almost a year ago Gwen had met her mate in the fury of battle. Like most shifters, they knew upon contact. Unlike others, Colby hadn't stuck around to bond. Never one to surrender, Gwen had left her pack to find out exactly what sent him running. Hopping from country to country, she chased him until she lost his scent.

Not willing to return home with her tail between her legs, she takes a job guarding the newest member of the Nosferatu clan in New York City where she discovers fresh traces of her mate. Hope returns and she takes up the hunt once more.

A slayer's job is never done and Colby is hunting the vampire who kidnapped a member of his team, but every turn he takes keeps leading him back to the one person he's been trying to avoid. Gwen.

As always, Annie Nicholas writes such fun-to-read books. This one puts a different twist on the typical "love story." The heroine, Gwen, helps her mate, Colby, in so many different ways. I even loved the minor characters, and I am hoping I get to learn more about them in Annie's next book.

I read this in one sitting! Could NOT put it down!!!
Nosferatu rule from the shadow and keep order over their blood thirsty people. Bald with pointed ears, they give vampires something to fear. If a law is broken, they have only one punishment. Death. They are the most powerful clan in the Vampire Nation and the most monstrous. Only a male vampire can be transformed into a Nosferatu but not all survive.

Connie Bence is on the run with her two lovers, Rurik and Tane. As leader of the Nosferatu, Tane's only threat is his own clansmen and they want all three of them dead. When Rurik began to lose his hair rumors spread and the Nosferatu accuse Tane of trying to transform Rurik into one of them illegally.

With the Nosferatu on their heels, Connie tries to figure out what's changing Rurik and cure him before she loses him to blood lust.

What an awesome conclusion to the series!!! This book totally sucked me in and I couldn't put it down. The ending was completely unexpected, and really a unique one. I've never read one like it before. Very cool!

Connie and Tane are still two of my all-time favorites EVER. Connie keeps me entertained with her witty remarks. I have implemented the use of some of them in my household.

I'm a HUGE fan of this series, and of Annie's! I can't wait to read more!!!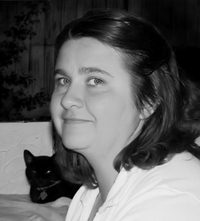 Annie Nicholas writes paranormal romance with a twist. She has courted vampires, hunted with shifters, and slain a dragon's ego all with the might of her pen. Riding the wind of her imagination, she travels beyond the restraints of reality and shares them with anyone wanting to read her stories.
Mother, daughter, and wife are some of the other hats she wears while hiking through the hills and dales of her adopted state of Vermont.
Annie writes for Samhain Publishing, Carina Press, and Lyrical Press.
Win an eCopy of The Angler Series from the eBook retailer of your choice!
@annienicholas http://goo.gl/OBVtzE pic.twitter.com/zy3CffWEyp